PeachFest USA
Wow! This year saw the 15th PeachFest, who'd have thought ten years ago we would part of a group of 17 pubs, all closing for the night to go and party in a circus tent. This year we partied on the day of American independence, so our theme was laid out for us, with all of us donning gear celebrating our friends from across the pond. All dressed up as cowboys; we set up our tents in a field somewhere in Thame and were ready to go. Looking around the field there was a huge array of fantastic costumes; Playboy bunnies, The Simpsons and gangster rappers to mention a few. We grabbed our first drink of the night in the form of a Peach punch from Pernod Ricard and munched on some of Aubrey Allen's finest in anticipation of what was to come.
Next up, the circus tent opened and we all poured inside. The bar was fully stocked and our fabulous suppliers were armed and ready to serve. This year, as an extra thank you, we were treated to a circus performance. Girls were hanging from the rafters, chaps showing off their footie skills, and one man even twisting himself into what can only be described as a pretzel. Once we'd all finished staring in awe; co-founders, Hamish, Lee and Jo invited all the Peachy partners onto the stage to give out some awards – there was even a guest appearance from David Hasselhoff! Those members that had all given 110% over the year were thanked and given a present before the real fun started.
Dance off time! It was time for our thirty seconds of fame as we boogied in front of all our pears, western style of course, to the best of our drunken ability. Following 17 incredible performances, a winner was picked. Sadly, this was not us and instead our sister pub in Witney, The Fleece were deemed the dance floor winners for their bunny hop (or so to speak).
PeachFest 2016 was fully under the way, the band performed a range of modern day beats right through to some old school classics, followed by DJ Rich, who we are familiar with into the early hours. There was non-stop celebrating by many until the sun rose, with a handful of soldiers returning to work and the rest going home to nurse their soreheads.
We really all had a blast and are so grateful to Peach for all they do, it's perks like this that make The Almanack, and Peach Pubs one of a kind.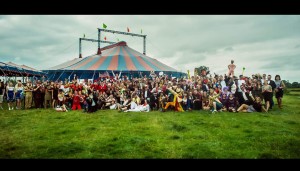 To next year!