YOUR FAVOURITE LOCAL IN KENILWORTH
Peach is a collection of really great pubs, mainly in market towns in the heart of England. The Almanack is a modern British gastropub in the centre of Kenilworth, filled to the rafters with atmosphere. As a quality gastropub, we serve great ingredients and fresh, honest food in relaxed, welcoming surroundings, always with a kind word and a sense of fun. Today we have twenty one pubs in lovely towns and villages, and an undimmed devotion to Making life Peachy. We have always been passionate about giving back and as we've developed and grown over the years, our ability and motivation to make the world a little better, a little peachier, has grown with us. The Bigger Peach shows our efforts to improve communities, equality in the workplace, and the future sustainability of our world. Our achievements were recognised in 2022, when we won Best Sustainable Pub Company at the Publican Awards, and we're also three star accredited by the Sustainable Restaurant Association. 
Soak up the sun and atmosphere whilst enjoying a bite to eat, a cocktail, or a glass of award-winning wine from our drinks list. We serve food all day and children are welcome to enjoy smaller portions of any of our dishes, or ask to see our children's menu. We take huge pride in serving the best ingredients we can find, from ethical producers, freshly prepared by our chefs. We're dog friendly in our bar and outdoor areas, bring your furry friend and stop by soon. On our bar you'll find a great range of spirits, beers and softs, so whether you pop in for a drink, a business lunch or a special dinner, we promise you a friendly welcome. Find us here.
We look forward to seeing you soon!
Kieran & The Almanack Team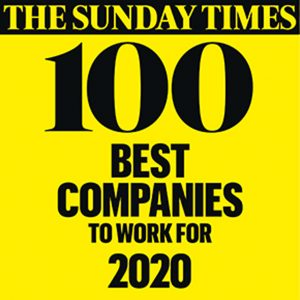 ---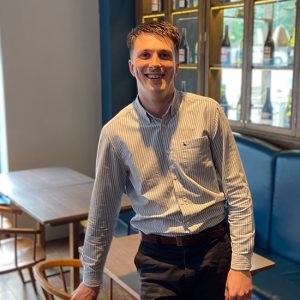 Kieran Vick, General Manager
Born and bred in Mickleton, a picturesque little village in the Cotswolds, Kieran also spent a lot of time in Hampshire. Visiting Portsmouth meant he was brought up around fresh fish creating his love for fresh and local produce. "There's something about watching the fish come in on a boat, straight to a fishmonger and buying it 20 minutes later. You can't beat it!"
Kieran first dipped his toes into the world of hospitality when he started his career as a food and beverage assistant in a large hotel. He had no idea what he wanted to do when he left school but was determined to earn some cash whilst he was making his mind up. He soon realised that getting paid to talk to people and have a laugh was an alright choice.
The older Kieran got, the more he appreciated the pub environment, and how few and far between these were,  so he successfully started his journey through some of the best premium pub companies in the UK.
We're lucky enough to now have Kieran at the helm of the Almanack. Choosing Peach for really hitting the nail on the head when it comes to every aspect of Pub life, along with our Peach Values which encompass what is really important, our guests our teams and the good stuff we serve.
There are four loves in Kieran's life, his partner, his beautiful little girl Ava, The Almanack and Golf. Next time you're in the pub say hi, Kieran cannot wait to meet you!
---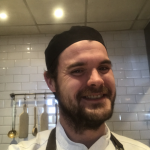 Matt Foster, Head Chef
Matt got into cooking at a young age inspired by his Mum who was always in the kitchen rustling up something delicious.  He took a leaf out of her book and got his first job washing dishes at the pretty Bedfordshire pub The Crown at Northill when he was just 16. In the space of three years he went from the kitchen sink to being one of their best chefs, juggling his culinary duties with college at the same time. Chefs whites in hand, he decided to take off for a season to do a stint as a private chef in Val Therons, Europe's highest ski resort in the 3 Vallées, becoming a rather handy snowboarder at the same time. Back on home ground, he first cooked at The Almanack not long after we opened, fitting in ski seasons with cooking at our other lovely pub The Richard Onslow in Surrey in between.  After a spell in leafy Hertfordshire, and supporting other Peachy Pubs, he's back running the Almanack kitchen. Welcome back, Matt!
---

Sarah Robinson, Pod Director
Arriving back in Edgbaston has been like coming home for Sarah. Growing up in Solihull she discovered her passion for food and making sure people had a great time whilst waiting on tables at her local pub The Peacock. Though it didn't take long to get qualified in leisure marketing at Solihull College nor promoted to assistant manager after only a year. So at just 21 she found herself managing The Falcon at Hatton, a great Warwickshire gastropub and great experience for what was to come. That included opening Bank Birmingham in chic Brindley Place, just as the city's food scene really started to take off, and a stint at Lovely Pubs running one of their loveliest The Crabmill at Henley in Arden. Soon it was time to run her own and Sarah headed south to take on two, The Hurdles in Droxford and The Bird in Hand in Lovedean in leafy Hampshire, turning both into fantastic foodie destinations. Now she's happy to be home, and super-excited to be putting Edgbaston on the map.
---
OUR TIME IN LOCKDOWN
As we entered lockdown, our first concern was everyone's wellbeing and their ability to support families in such unprecedented times. Peach have been great in helping our team, with access to our hardship fund, zoom quizzes, online DJ sessions and masses of social contact, keeping us all in touch. Some of the pubs helped with Your Hub, a Social Enterprise to support the local community. From feeding homeless, to Youth support centres, NHS call centres, hospitals and care homes.
See more of what the Peach team have been up to below: