the ALMANACK in kenilworth
The Almanack is a modern British gastropub in the heart of Kenilworth, between Abbey Fields & the High Street.  We serve high quality fresh seasonal food & great beers, wines & spirits all at pub prices. Open all day, seven days a week, serving breakfast, coffee & cake, lunch, drinks & dinner, we aim to be Kenilworth's favourite "local".
the peach family
Our aim is to make our pubs great places, full of character, great individual places to eat, drink & sleep; a place for local people, businesses, families & tourists to meet and call their own. Every pub is unique, individually designed to suit their town or village, and respecting each pub's history.
Peach is not a chain, it's a group of like-minded enthusiasts. If you like one of our places, you're almost bound to like the others. Click here to find them!
We will never be the biggest pub company; we're out for perfection on a small scale, fuelled by passion for good food and drink and a keen interest in protecting the environment.
The Almanack, our modern gastro pub in Warwickshire is open every day from 8am for breakfast. Whether you drop in for a coffee, a pint, a business lunch, to work on your laptop with free Wi-Fi in comfortable friendly surroundings, or for dinner with friends we promise you a hospitable welcome.  We take huge pride in serving the best ingredients we can find, from ethical producers, freshly prepared by our chefs.
We look forward to seeing you soon!
Ania & the team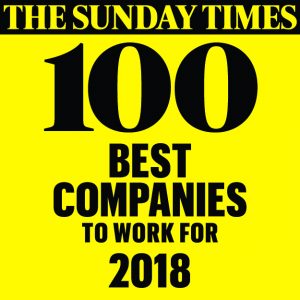 ---
Ania Juszkiewicz, General Manager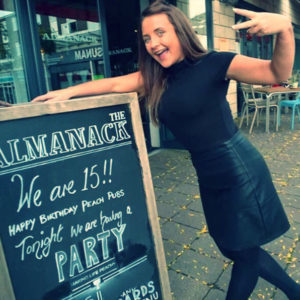 Born in a little mountain village in Poland, who knew Ania would eventually land at The Almanack, but lucky for us, she has! When she was young, Ania wanted to grow up to be Batman, or a teacher, but after studying politics and history, she quickly realised her life was not meant for books. She ended up in the UK working as a waitress in Woburn to improve her English.
Her love of travel took her to Australia and Asia, where she worked for seven years as Openings Manager for Luke Mangan and Company, where she gained the invaluable experience that makes her the fantastic operator she is today.
After plenty of adventure, she started to miss her friends and returned to the UK in 2015. She joined The Almanack as Deputy Manager, working her way up to General Manager. We're charmed by her Polish/Welsh/English accent, and find ourselves laughing a lot in her company, as I'm sure everyone knows. Ania knows her stuff, but it's her sense of warmth and fun that makes her such an incredible host and The Almanack, the best place to go in town!
---
Jakub Fijak, Head Chef

Jakub is our talented new head chef. He gained his chef's whites in his home city of Krakow and spent seven great years in restaurants in Poland before fancying a change. Hungry to learn more about the French way of cooking, he worked in the relaxed surroundings of the Dix Neuf Brasserie in St Helier, Jersey and then in the City Brasserie nearby and was soon running the show.  Landing at our sister pub The Fishes near Oxford, he put all those Gallic influences he soaked up along with his love of fresh, simple ingredients to good use, before moving to Warwickshire to do more of the same at The Almanack, Kenilworth.  Another great pub, The Hatton Arms caught his eye, and Jakub helped put this lovely canal-side spot firmly on the foodie map. Just as he'll do here, now he's back at The Almanack.  Come and try his fantastic food soon.
---
David Cumberlidge, POD Director

David used to start his day serving breakfast at the small hotel his parents owned in Banbury, though a hotelier's life certainly wasn't for him. Leaving school at 17, he packed his bags for Barcelona and spent a year working at The Palace and McCarthy's Irish bars in the city then headed for Ireland. Hotel Kilkenny was his next home for a year and David went back to school to earn his bartender stripes, before making for Newbury to help out a mate.  Landing a job at The Yew Tree Inn at Highclere marked the start of an amazing journey with Marco Pierre White, and David worked shoulder to shoulder with the great man opening hotels and new pubs alike.  As the empire grew, so did David's talents and after five short years he was overseeing operations and running Marco's Wheeler's of St James's group which included his gorgeous country pub collection. After eight years with Marco the decision was made to put all his talents to great use here in our pubs and the little Peach outpost he plans to create one day in Wiltshire.
---
The Peach Foundation

The Peach Foundation is a grant giving organisation, we work with Local Heroes promoting and supporting projects that make a real difference to the communities we live and work in. Each menu includes a chosen dish which supports the Peach Foundation, for each dish sold, 25p will be donated. This raises approximately £1000 per year. Our focus is to support local individuals who are passionately promoting and living our values in one or more of these areas:
Food Provenance – happy animals/tasty fruit and vegetables
Healthy Eating – promoting better health in the community
Sports Education – promoting and/or providing local sports facilitates for all
Planetary Hero – saving our planet one small step at a time
To find out more, click here.