Tapas is coming…
There are myriad stories surrounding the origin of tapas. My favourite of the many gleaned from 10 years living 'la vida dulce' goes like this…
Bar owners would place a slice of bread atop of their guests' wine or brandy glass creating 'una tapa', or lid to keep the pesky flies out. Guests soon began demanding a little something tasty to go with their bread; a smidgen of manchego; a slice of jamón; a pickled anchovy. These tasty morsels soon initiated a food revolution.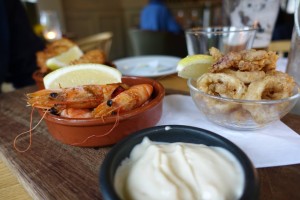 Tapas, or Pintxos as they are known in the Basque North of Spain, soon came to dominate the wine bodegas and cervecerias that line the streets of Spain's medieval old towns. Whilst the tourist centres of Seville and Granada in the south, and the increasingly elaborate creations of Bilbao and San Sebastián in the north grab all the headlines, my favourite place to enjoy a tapas run is in the heart of the Rioja wine region, in the elegant centre of Logroño.
The premier street, Calle de Laurel, boasts more than 20 bars in a single 100-metre stretch.
Each bar specialises in just one or two dishes. Their neighbours, a different one or two dishes so that there is no great competition between bars, just a great big family of quirky eateries sharing a hungry and willing audience. I always head straight to Bar Angel. They serve one dish and one dish only. Three mushrooms grilled with garlic butter, stacked up and adorned with a solitary shrimp. Sounds simple, and it is.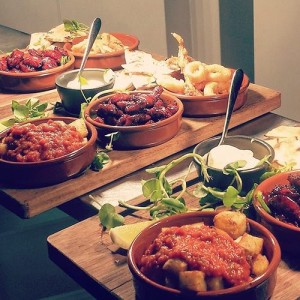 The Almanack are bringing a little taste of Spain to Thursday evenings, starting from 8th September. Chef Jakub is poised to reproduce a selection of classic tapas with a distinctly British twist using, as always, using only the good stuff.