We're back – with a smart new look!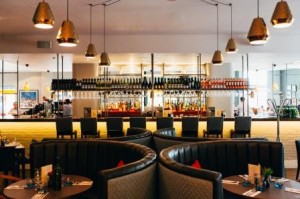 We're pleased to say we've emerged from a top to toe refurbishment which brings a very smart new appearance to our great gastro pub.
We've had a contemporary makeover bringing The Almanack right up to date.  Peek inside and you'll see that both our spacious bar and eatery are now sporting chic new forms.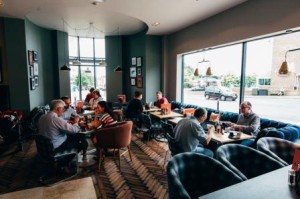 Our bar continues to work as a light, bright day time space with pale grey walls and comfortable upholstered armchairs, bar tables and sofas in grey, aqua and coral.  Warm, parquet flooring in a striking herringbone design unites the space, its copper tones reflected in the new Tom Dixon mesh bar lighting which makes the place glow at night.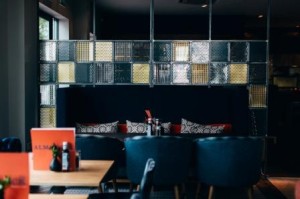 Intricate metal screens divide the bar from the eatery, which you'll see takes on a more glamorous feel with rich blue teal walls and touches of pillar box red.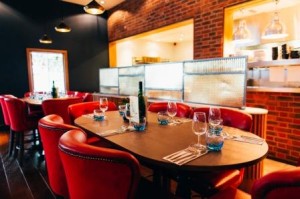 New leather booths and high-backed sofas make for lots of desirable places to sit and enjoy something from multi award-winning head chef Rob's new menu, and there's a brand new chef's table right at the heart of the pub.  Book it and you and 13 guests can enjoy a special dining experience with fantastic food as well as the company of the man himself.
Take a look at our new menus too.    There's something that will see you through every part of your day, whether you pop in for brunch, a quick deli lunch or a gastro night out.
From 8am to 6pm there's a new Brunch & Lunch menu, featuring classics like Corned Beef Hash, Fried Free-range Egg and Brown Sauce; Crab Benedict with Poached Free-range Egg and Hollandaise and a great Full English Breakfast.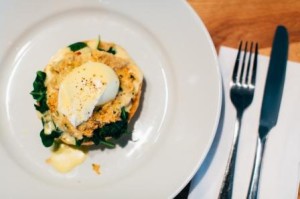 Don't miss lunch as it's a major feature of the day.  Try the brasserie style Steak Frites, with 28 day dry aged minute steak, skinny fries and Café de Paris butter or something light and lovely like the Tart of the Day with a choice of two house salads, perfect for picking up with a glass or two over the bar.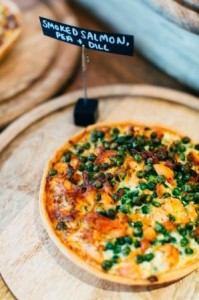 There's also a brilliant two course Daily Deal giving a wide range of options from across the menu for £12.50.
Wine & Dine is available from 6pm onwards.  This features great selections for sharing alongside starters, mains and sides, with wine ideas for varieties and styles that perfectly match what's on your plate as well as suggestions for what to drink while you think….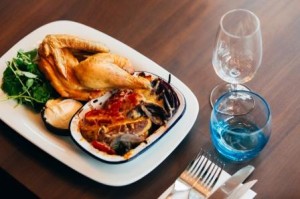 New arrivals include Half Free-range Roast Chicken, Stock-roasted Potatoes, Aioli; Cornish Lamb Sirloins on the Bone, and Thai Fishcakes with Rocket and Coriander Salad, Red Pepper and Coconut Sauce.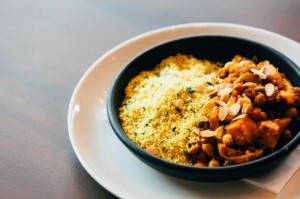 There's also Chickpea & Apricot Tagine with  Saffron & Coriander Couscous and Key Lime Cheesecake & Blueberry Jelly with  Candied Limes to finish.
See the full menus here

After seven great years here in Kenilworth, we've discovered a lot about how you use us.  We've put all of that into our new look and our food and drink, so we can really give you what you want.
We really hope you love it!  Come and try it soon.