A change is sometimes all you need…
We're getting the New Year off to the best possible start by launching an exciting new menu for dining, grazing and sharing, morning 'til night.  There's also plenty going on at the bar!
Our Head chef has come up with an all-new menu of great gastropub dishes that you can tuck into any time from 12 noon until 10 at night, each one a delicious plate packed with the good stuff. Think free-range flat iron chicken and skinny chips, classic smoked haddock fishcakes and soft poached egg or slow-roasted Cornish lamb shanks.  If you only fancy a lighter bite, try the pan-fried scallops and pork croquettes or the grilled Cornish mackerel, warm potato, red onion and cucumber salad.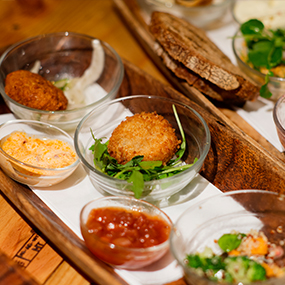 He's also put together a fabulous choice of small pots for mixing and matching, so you can make up your own selection of deli post to enjoy with a glass of something chilled. Think British-style deli pots to have individually or on a board – smoked mackerel pâté with soused cucumber; sesame-crusted halloumi with peanuts and crunchy vegetables; Blythbrugh pork croquettes with apple sauce.  Team them with some Puttanesca olives or toasted sourdough and whipped Chop House butter, a lightly spiced whipped butter that's great with sourdough. See the full bar menu here.
And just because you might need to tighten your purse strings after the festive season, you won't need to shy away from the pub right now because he's come up with a cracking choice of daily dishes available each lunch time as well.  Look out for dishes such as steak frites followed by warm sticky flapjack with poached figs and pecan and brown butter ice-cream.
The daily deal is two courses for £12.50 every day bar Sunday, when The Almanack's great roasts are on offer bringing you bottomless roasties and towering Yorkies alongside sweet crumble served at the table.
On the bar, meanwhile, The Almanack's branded beer glasses are making a comeback by popular demand, so now you can savour a perfectly poured pint of Peroni, Purity or Estrella in your favourite glass.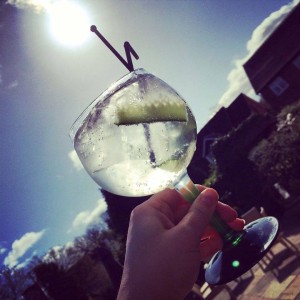 You can also get your weekend off to the best possible start by taking advantage of a very special offer for Friday evenings.  Treat yourself to one of the three great Grand Gins on The Almanack's list including a classic London Dry Beefeater or a distinctive cucumber and rose infused Hendrick's gin and get another on us.
Breakfast is only available until noon, and Gin O'clock is every Friday from 6pm to 8pm.  Roasts are also served all day on Sundays until 9pm.
Sometimes a change is all you need and we think we've got everything you need for a great time here at The Almanack.  Come and see us soon.